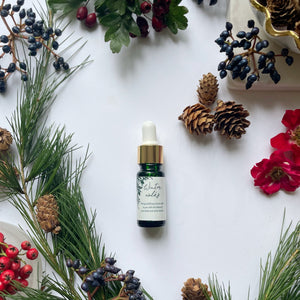 Getting outside in nature is one way to boost your mood and enjoy the seasons, it was my goal to bring the outside in and capture the beautiful scent of forest pine, woods mixed with sweet berries and that earthy blend of rain and leaves. Using sustainably sourced Scottish pine, cedarwood, fig, cassis and frankincense this blend is a beautiful breathe of fresh air.
Sending as a gift? Simply add a message in the note section on check out. 

Fancy a sample? Add what you'd like in the note section on checkout. 
Directions for use
Fill your diffuser or oil burner with the appropriate amount of water and add 5-10 drops of the oil. Sit back and enjoy.
Warning
External use only. Keep out of reach of children. If in contact with skin or eyes, rinse well.
10ml 0.34 fl.oz
Can't get enough!
I ordered this oil and another as a gift. I'll be honest, when I originally smelled the oil in the bottle I didn't think it was for me, that's ok because I can also give it as a gift, but I dropped a couple of drops on the front bottom of one of my ornaments in my livingroom. Moments later I was dropping it everywhere! I LOVE the smell! It's refreshing and warm at the same time. One of my favourite places to drop it is on the sponge filter of the vacuum so it smells nice every time we use it. It's subtle enough and doesn't smell synthetic. I'm wary of using oils because I have a dog but felt confident using SW botanicals. I also love that you can ask for a small sample of another.
Winter walks
Absolutely love this! The smell lasts without being overpowering and is perfect for this time of year! X
Best one yet
It's a walk in a pine forest with knitted scarves and hats and Folklore as the soundtrack
Beautiful wintery scent
To say I love this scent would be an understatement. I'm really fussy when it comes to oils and rarely use my diffuser for more than an hour or so. Since Winter Walks has been delivered my diffuser is on constantly while I'm in the house and I've gone through 1/3 of the bottle in a week. I'm not a fan of traditional Christmas scents either so this is perfect for me too. I'll definitely be ordering again.
Beautiful scent that even my festive hating husband loves
I've loved all the blends I've had from SW (and I've had a lot - my home office is powered by Relax/Energise) but this is the first my husband loves too. It's crisp and refreshing, just like a gorgeous frosty winter walk in the sun. We love it.